She is clothed with strength and dignity; she can laugh at the days to come.
We are in the process of "rebranding" ourselves and while we know there will be many who will continue to call it Women's Ministry, it will be titled GetREALFaith. R.E.A.L. is an acronym (cause we needed 1 more)! for. . .
Relationships
Encouragement
Accountability
Laughter
We believe that each of these is an important component that we need on a daily basis. We are striving to provide ways to bring women together to find new friendships, revive old ones, support and challenge each other to live better, love deeply and laugh often.
GET R.E.A.L. FAITH WOMEN - BASICS BIBLE STUDY, Wednesdays, January 12, 9:30am
NOTE START DATE CHANGE: The start of our Basics study has been postponed one week and will on Wednesday, January 19, same time and location. Hope to see you then!
Need a refresher of Bible basics or trying to gain some basic understanding? Join us for this Basics Bible Study on Wednesdays, starting January 12, 2022 from 9:30AM – 1PM. You can register online
HERE
or by contacting Wendy Hubbard (wendy@faithlodi.org).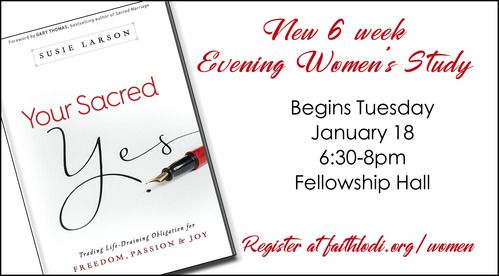 NEW EVENING WOMEN'S BIBLE STUDY, Tuesdays, January 18, 6:30-8:30pm, Fellowship Hall
Does your busy life leave you feeling stretched thin? In this 6-week study, "Your Sacred Yes" by Susie Larson. In this study you will discover how to say "no" to unnecessary obligations and "yes" to the One who revives your soul. Sign up today
HERE
.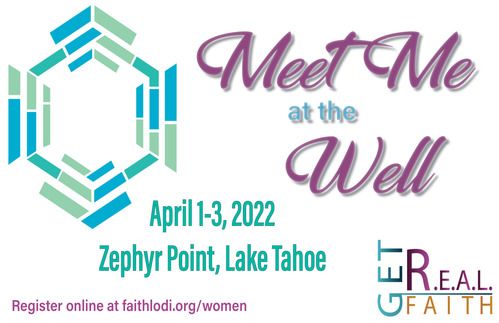 "MEET ME AT THE WELL" WOMENS' 2022 RETREAT, April 1-3, Zephyr Point, Lake Tahoe
Reservations begins this Sunday. Visit the table in the lobby for your early reservation for next year's retreat. A great Christmas gift idea for your wife, sister or friend. Cost is $225 per person with a non-refundable deposit due of $75 to hold your spot. Reservations are limited, so don't delay.
You can also register and pay online
HERE
.
Women's Zoom Bible Study
Tuesdays, 6:45-8pm, via Zoom
Get Connected. Go Deeper.
Stay connected to each other and the Word of God through this Women's Zoom Bible Study.
They meet every Tuesday 6:45-8pm. The group studies various themes offered on the
YouVersion Bible App. This group is open to women of all ages who want to be a part of a small group Bible study.

For information and to obtain the Zoom meeting connection link, email Cathie Hines at chines88@gmail.com or call 209-625-6452.
We'd love to hear from you. Fill out the form below to get started.