Jesus said, "Let the little children come to me..."
Faith Kids Services are at 9 am & 11 am
Each of our age groups are exposed to God and His Word by learning age-appropriate truths taught directly from the Bible; in order to help shepherd Faith Kids into a growing relationship with Jesus Christ.
For families who wish to stay together with their children during church, we offer a Parent/Child room, which meets in Room 101/102 in the main building. Here, you will be able to watch the message together via television livestream.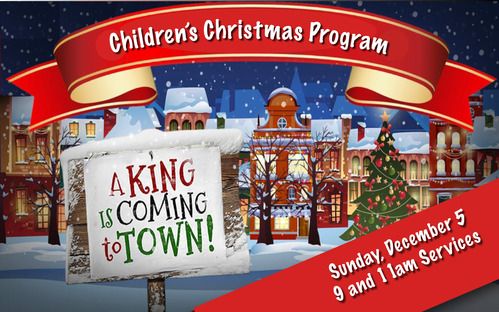 FAITH KIDS' CHRISTMAS PROGRAM – Sunday, December 5, both the 9 and 11am services

"A King is Coming to Town" is the title of this year's Faith Kids' Christmas program. Our kids have been working hard rehearsing to bring you this special program. What a great way to kick off the Christmas season. Bring the entire family for this special treat.
JAM 56 CHRISTMAS PARTY, Friday, December 10, 6-8:30pm, home of the Barrons, Lodi
Calling all 5th and 6th graders and your friends, join us for our Christmas party filled with fun, pizza, cookie decorating, Christmas caroling, and of course, the Christmas story JAM 56 style. Please bring a wrapped unisex gift valued at no more than $20 for the gift exchange. To help us better plan, please RSVP
HERE
.
PARENTS NIGHT OUT, Friday, December 17, 6-8:30pm, Fellowship Hall
Parents, enjoy a night out without the kids. Drop your 4 year old thru 6th grader off at the church. They will enjoy a pizza dinner and a fun night making Christmas gifts and watching Christmas movies. Cost is $10 for 1 child; $15 for 2 and $20 for 3 or more. Space is limited so don't delay in registering
HERE
.
NOTE: OUR WOW KIDS WILL NOT MEET DURING THE MONTH OF DECEMBER. THEY WILL RESUME AT THE REGULAR TIME ON WEDNESDAY, JANUARY 5.
ENJOY YOUR TIME AT HOME CELEBRATING THE CHRISTMAS SEASON.

WOW KIDS HAS RETURNED - Every Wednesday, 6:30-8pm
For all Faith Kids and their friends, kindergarten thru 6th grade.
Join us every Wednesday evening for some mid-week fun, friendship and worship.

PRESCHOOL WELCOME BACK SEPTEMBER 1
Beginning Wednesday, September 1, our mid-week children's program, WOW Kids, will welcome back preschool children ages 3, 4 and 5. Parents MUST be present on campus attending an adult study in order to have their preschooler enrolled in this program.
ALL PARENTS: A NEW 2021/2022 Health & Consent Form is needed for this school year
Beginning with this 2021/2022 school year, we are requiring ALL children & youth to have a current Health & Consent form on file. Yes, many of you just completed a form for VBS or a youth event, but we are making this one-time change coordinating the Health & Consent form with the school year instead of the calendar year as in the past. This form is required prior to your child attending any mid-week program or special event offered by Faith .
You can find paper forms at the check-in stations on Sundays or electronically by clicking the link below:
2021/2022 ELECTRONIC & PRINTABLE FORM
Have a question about Faith Kids?
We'd love to hear from you. Fill out the form below to get started.